How are you in these days, so close to christmas? Stressed? There are phases in our lives, where stress increases hugely. But what if the stress is so great that it knocks you down? Quite simple: get up!
Quite simple? But what if the rainfall really blows you away? I mean, life is like a boxing match. "Round by round" we have to go through. Sometimes it's easier, sometimes harder. Sometimes you are more in motion, sometimes less. Sometimes you feel pain, sometimes less. But one thing is certain: The "punches" you get, feels like they come from any direction. I mean, if the opponent is a worthy opponent. But I think we agree that there is no bigger enemy than life itself. At the same time, life is your best friend. So, the question is, are we a worthy opponent?
Vinny Paz – invincible, unstoppable, incredible
Vincenzo Pazienza (called "Vinny Paz"), was a former American professional boxer of Italian descent. He was i. a. a IBF world champion in lightweight and a WBA light middleweight champion. He won 50 boxing matches, a total of five world titles and defeated many notorious opponents.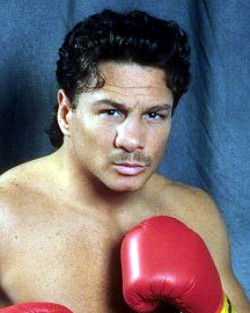 In 1991, Vinny had just won the WBA title when he suffered a broken neck in a serious car accident. Just before the impact, as the car slid onto an oncoming vehicle, Vinny clung helplessly to the door handle and had only one thought, "Oh my God, I'll never be able to defend my title." In fact, he later had to resign his title because he could not defend it. That was a tiny problem compared to what the doctors told him after the car accident. They predicted that he would most likely never be able to walk again, but certainly not to fight ever again. Vinny was 28 years old at that time. He had just one chance left. He had the chance to take a decision: fight or give up. He decided – bravely – for fighting. Although doctors advised him not to box again, Vinny began – secretly – again with the training.
His doctors advised him to have two iron bars in his neck to prevent complete paralysis. The risk of total paralysis was high, the doctors said. Vinny said "No," knowing that this would be the end of his boxing career. The reason was that this kind of solution would exclude everyone with such implants, as there was a higher risk of injury. Instead, he insisted to get a "Halo," which is a neck stabilization consisting of support rods on the shoulder and a metal ring at forehead height. The metal ring was drilled in four places in the skull and thus fixed.

The Halo was supposed to stabilize his shattered neck for several months to support the healing process. The goal of using a halo is always to keep the neck as "calm" as possible.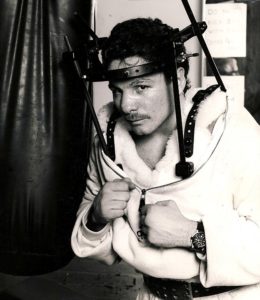 Five days after he had the four screws drilled in his skull, he started training again. For three months he wore the halo. During that time he trained like a madman – yes, right, all the time with the halo (!) – and used his mental power to become a BRAVE FIGHTER. Strictly speaking, the BRAVE FIGHTER. Because he had – courageously – overcome his fear to injure irreparably during the training. In the process, his mode of thought changed, having his former boxing style you can call "wild like Rambo" turned into a deliberately fighting tactician. His "stamina training" and mental strength helped him actually to get back into the ring. Not only that. Thirteen months after his car accident, on December 15th, 1992 (yesterday, 25 years ago), he won his comeback fight against Luis Santana. This victory became known as "The Greatest Comeback In Boxing History".
"I never once thought I would not fight. Never once." (Vinny Paz)
On December 28, 1993, he defeated the former world middleweight champion, Dan Sherry, by KO in the eleventh round and was again title holder: World Middleweight Champion.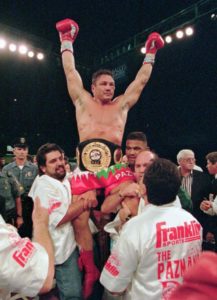 Later, he defeated numerous well-known opponents such as Lloyd Honeyghan, Roberto Duran and the previously undefeated Dana Rosenblatt and won another two more world titles. Before the fight against Roberto Duran, Duran said he would "break Vinny Paz's neck again." Roberto Duran was known for his rude style, also verbal. But it was these words that made Vinny incredibly powerful and channeled them into an unbreakable will. Duran lost his title and also in the rematch Vinny won and thus defended his title. Duran was not anyone, he was a five-time world champion and one of the greatest boxers in the history of boxing.
#BeBrave – and set your emotions free – use them!
Today (12-16) is Vinny Paz's birthday, he turns 55 years old. In his professional career as a boxer Vinny never went KO, in life, at least once. But he got up again. Because a KO is not something you should be shamed for, anyone can get knocked out. Getting up is more difficult … but not impossible, even if everybody tells you that it is 😉
YOU – invincible, unstoppable, incredible
In the world we live, we admire Bravehearts, several Batmans, Spiderman's and Superman's. We like the fiction because the fiction knows how to please. But the true heroes are among us. YOU can always be one of those real heroes. No, you do not need a costume or superhero skills to be a real hero. You do not have to become a professional boxer either. Remember only one thing, "normal" people have managed incredible, have developed from a NoName to a name and courageously stood up again and again. I can testify this. If you are brave enough then ask me! Ask me if YOU can be a "Vinny Paz" too. Guess what I'll answer? I can tell you now: yes, anyone can be!
… because bravery is already in you, trust me.
Because of my genetic defect, doctors told me that I will not be older than 20 years old. I was just a child as they said this. In fact, the life expectancy for the disease of my genetic defect caused was exactly what I was called, at that time. The statistics were against me. So everyone (not just the doctors) said to me: "don't waste the short time that you have with a professional and private realization. Just forget about it."
I said: No! I'll make it! Despite everything!
Today I am 41 years old. I listened to no one and lived my life – anyway!
Imagine everyone tells you that in space you can not fly into a "black hole" because science says we will not survive it. Imagine, you do it anyway. Now, imagine that you will experience something completely different than everyone said before … and you are still alive! That's how I feel about my "journey".
Swap Batman, Spiderman and Clark Kent with a Polar Express
Christmas is coming. Leave the Batmans, Spidermans and Supermans of this world and enter in a Polar Express. Everything we are living for you will – hopefully – be able to hug at Christmas. The power and courage Vinny has shown is "contagious". The "infection" works with every emotion. So with love. Combine love, strength and courage and make this a "gift", for your beloved ones, for your children, your family and for everybody who doesn't have that much. Do what they say in Christmas movies – and do it not just on Christmas, but also afterwards, like always. Because time goes by. But not stories as long as you write them.
The story of Vinny Paz was also filmed, but is not really a Christmas movie. Despite, after Christmas is before Christmas, in between there is pure life – without fiction 😉
#BeBrave – and live pure, never give up and inspire the world!
Inspire me and others – and write below how do you inspire people?