Chris Longy
In the night from Sunday to Monday, the largest sporting event in the world, the Super Bowl of the National Football League (NFL), takes place in Minneapolis, USA.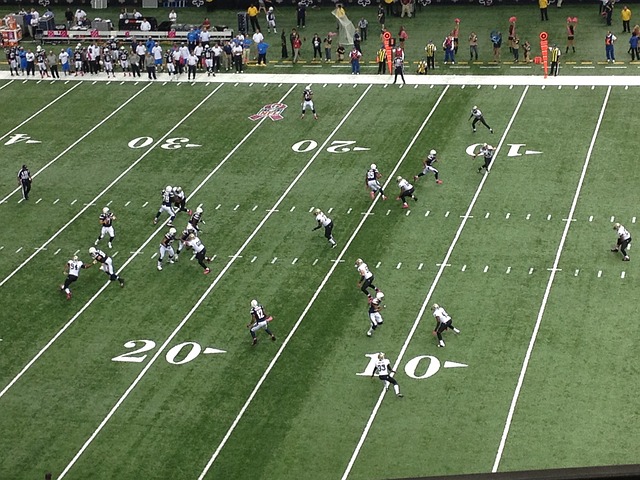 Chris Long will be there and win the Super Bowl for the second time. With his team, the Philadelphia Eagles, he meets on 5 February on the defending champion, the New England Patriots, with whom he won the 2017 Super Bowl before. Chris Long is already a winner. He is also courageous. Very brave. Because to play American football, you need courage, no matter what position you play.
But Chris Long is also brave for a very different reason. For he donates his entire annual salary in 2017 to social education projects.
BEBRAVE – AND BE MORE COURIER AS BUTY, BY WHICH YOU DO NOT ONLY PARTLY, BUT COMPLETELY OUTSTANDING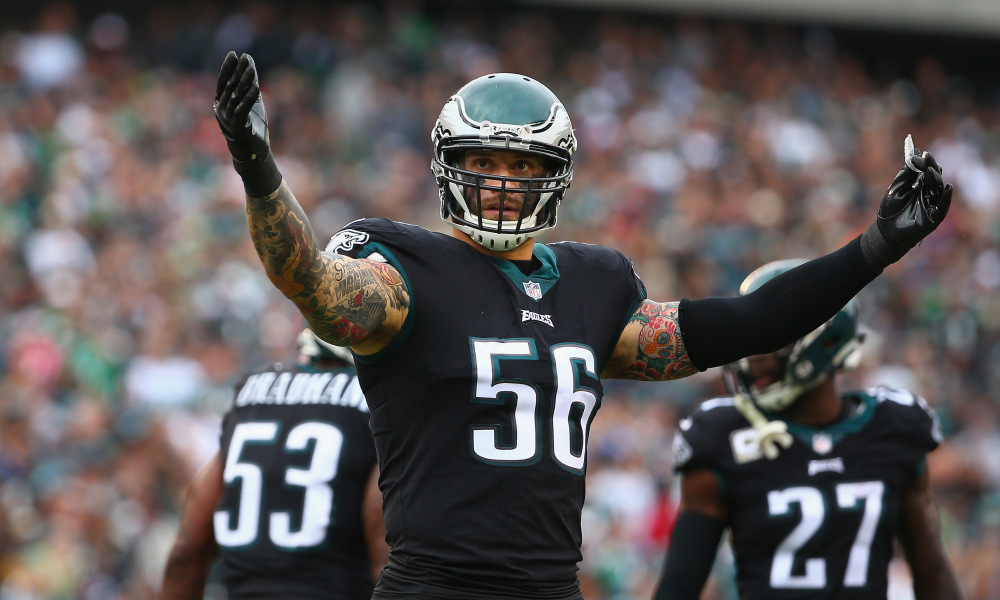 Chris Long has grown up privileged and he knows that if he does stop playing football, he will not get as much attention as he was before. That's why now. In addition, an event reminds him time and again that he never wants to be idle again. Charlottesville, when hundreds of right-wing extremists marched in August 2017. In his hometown.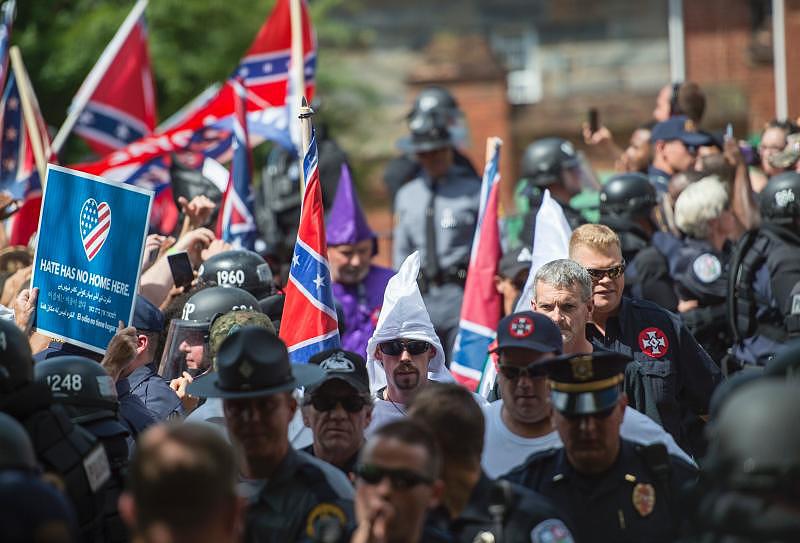 In clashes between right-wing extremists and counter-demonstrators, there were several casualties and as a car rushes into a crowd of protesters, a 32-year-old woman dies. Chris Long asked himself why he had not acted before? What was missing? Maybe courage. It takes courage to ask yourself such "difficult" questions. Because the answer might be harder to weigh than the question itself. That's why we do not ask ourselves that question – mostly – not. What is missing? Courage!
BEBRAVE – AND QUESTION YOURSELF: WHAT IS MISSING, SO THAT YOU DO GOOD?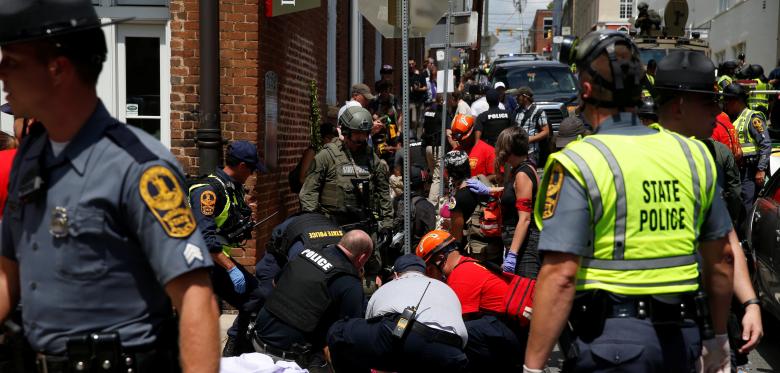 Since that event, Chris Long wanted to make a difference. He wanted to do something to make this world "better". This idea grew more and more in him – he did not let up – and so he donated the salary of his first six games. With the money schoolchildren in Charlottesville was paid a proper education. But that was not enough for him. He donated his entire salary. His goal was to reduce social inequality in education. The campaign "Pledge 10 for Tomorrow" was born. Institutions in Philadelphia, St. Louis and Boston have been financially supported – by the way, exactly the three cities he has played as a football player.
Everything. All his salary in 2017 has been donated to Chris Long. Of course, he has earned millions over millions over the course of his football career. Of course, that also made it easier for him to "donate" a whole year's salary without any problems. But Chris Long says that as well. He knows that he is in a position where he can afford to donate "on a grand scale". It is precisely these people, who are privileged, who are allowed to listen carefully. You can help, so it makes you want to help to the person you can always be: An even better person, the world – despite everything and against all odds – a little "better" makes. As Chris Long does. Even Barack Obama tweeted about it …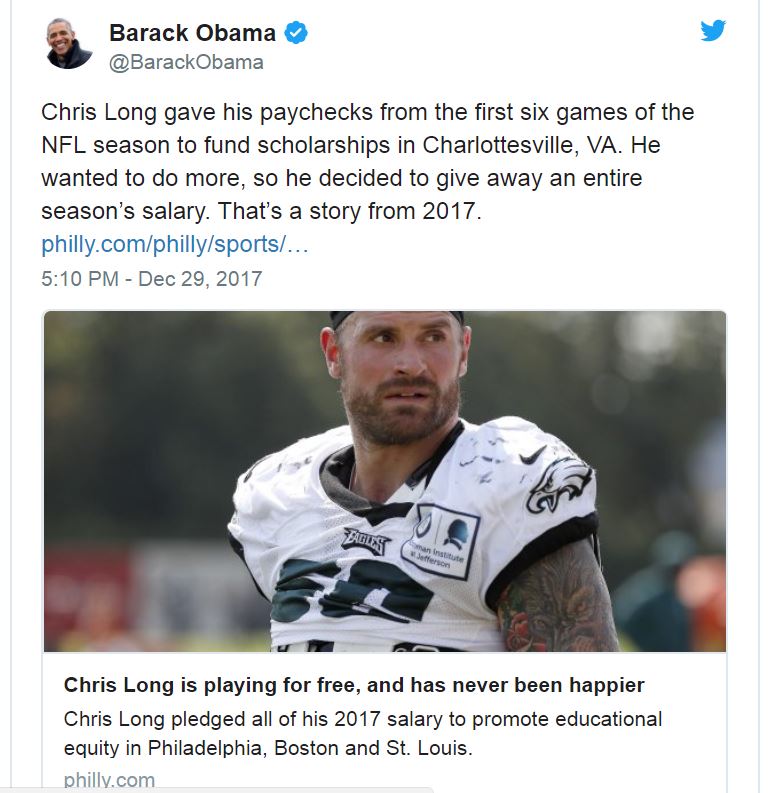 Just as Barack Obama wrote, "Hey (Chris Long) wanted to do more". This "wanted", where does that come from, what is that?
If you want something with all your heart, then it comes from there, from your heart.
If "something" actually moves you to grasping what you want wholeheartedly, then that's the courage.
And courage is contagious. After Chris Long, colleagues from the NFL and fans also donated over half a million euros.
BEBRAVE – AND PUSH THEM
You can make a difference too. It does not always have to be big, it can also be a small difference. Choose your own difference. Give yourself a jerk and just do it. You'll see, sometimes even something big can arise …
If you want to know more about Chris Long's Foundation: https://chrislongfoundation.org
BEBRAVE – AND WELCOME YOU THE FOLLOWING QUESTION EVEN: WHAT CHANGE I TO POSITIVE?